Meet our Professional Hair Stylists, Estheticians and Wellness Staff Members and read some reviews
Things to note:
Click on the name of our team member below to read reviews.
Click on photo to zoom in.
Click on the Pink Instagram Icon link to follow individuals work.
Click on the Black Instagram Icon link to follow Michauds collective work.
Staff denoted with * hold additional certifications.
Mya - Level 3 Hairdresser
"Consistently making sure you feel welcome from the moment you arrive. You can be certain that the service or treatment you receive will be provided by only the best."
– Colleen
Jensen - Level 1 Hairdresser
"My experience at michaud's was great! Even with all the covid protocols. Everyone had a mask on and were using safe precautions! The staff are friendly. My stylist Tia was amazing. Very friendly and professional. First time for her to do my hair. She listened to what I like. My hair colour was exactly what I like. And she cut it perfectly. Of course I will be back. Thank you!"
– Joanne
Ryley - Level 5 Hairdresser
Level 5 Hairdresser

Makeup Artist

Hair Extensions
"Had a wonderful first time experience with Michaud's. Ryley listened to what I wanted, was very friendly and cheerful, and gave me a great cut. Will be back in six weeks (or sooner to have my bangs trimmed – nice perk)."
– Marilyn
Alex - Level 5 Hairdresser
"As usual my experience was once again top notch, I always look forward to my haircut and streaks by Alex ,we catch up on each others lives,and the people are so friendly there. Love the place…"
– Donna
Jen D. - Level 5 Hairdresser
Level 5 Hairdresser
Extensions
"Jen D is absolutely amazing! As I was preparing for my wedding day, makeup done and Jen doing her magic, I looked up and was blown away by what an incredible job she was doing and she had just begun! I looked at myself and thought WOW I'm going to be such a beautiful bride!! Jen made me look as wonderful as I felt on the inside for our special day! Our wedding was a dream come true and I looked and felt like a princess thanks in part to Jen!! Thank you from the bottom of my heart!! xoxo"
– Debbie
Cori - Level 5 Hairdresser
Level 4 Hairdresser
Redken Certified Colourist
"Cori is the most patient hair dresser and so willing to make sure that I am happy with my hair when she is finished. Its very hard for someone else to know exactly what you want whats in my head is so very different than what someone else might think but Cori is very willing to make sure it comes out how I like it. She has the patience of an angel never seeming frustrated at all just wanting to please she is a wonderful girl and makes my experience a very good one when I am there. She is such a sweetheart and a great hairdresser anyone would be please to have her help them. Such a kind and pleasing personality. Will be back Cori did a great job on my hair I was very happy with the results."
– Diane
Cheri - Owner & Stylist*
Level 5 Hairdresser

Redken Certified Colourist
"Cheri is a one of kind hair dresser. Her attention to detail and attentiveness to client's wishes is unparalleled. I could not say enough good things about how my cut and colour turned out. I was nervous as this most recent visit was a first time colour for me but I am so pleased with the results. I have been coming to her for years and I always leave with beautiful hair and a giant smile."
– Rum N.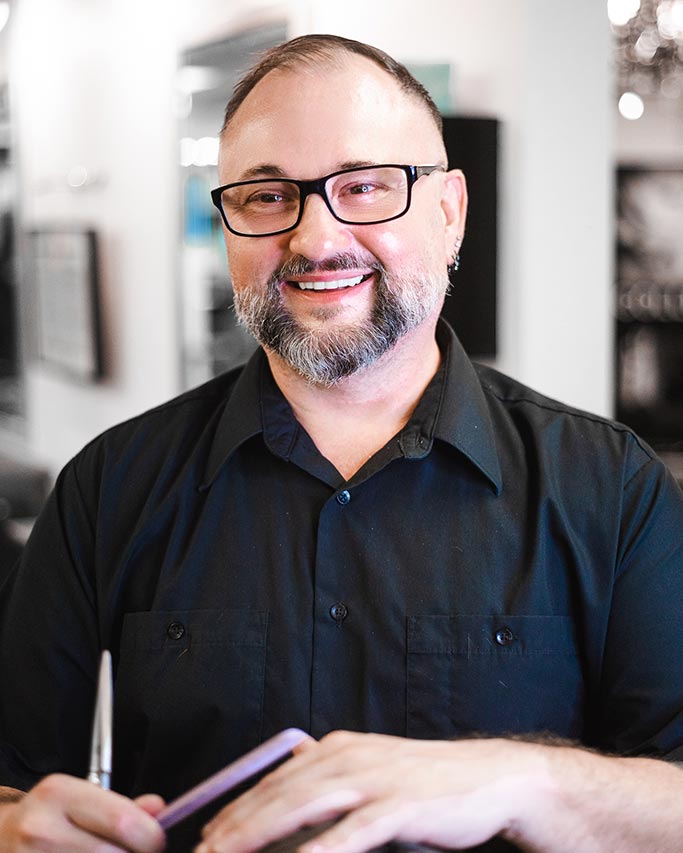 Todd - Level 5 Hairdresser*
Level 5 Hairdresser

Salon Education
"I have been going into Vancouver for years to get the kind of precision cut that suits my hair and face. Wanting something closer to home, I decided to give Michaud's a try. After stating my needs I was booked with Todd and I couldn't be more happy! I got an excellent quality cut that I am confident will hold its shape as it grows. No need to drive into Vancouver with this type of talent so near!"
– G D
Keira - Level 5 Hairdresser
"Fantastic! Everyone is always friendly. my hair stylist Keira always does such a good job, I went red with blonde highlights (which in the past I've ended up pink via a different salon). But Keira pulled it off perfectly. My dad even commented it's the best colour I've had yet! And I fully agree."
– Dana
Teresa - Level 5 Hairdresser
"I love the haircut my hairdresser did for me. All my friends love my hair.I really love the service I get whenever I come for an appointment. Your receptionists are very friendly. Thanks to the hair dresser, Teresa for my haircut and her caring service. Thank you Michaud's salon for your caring staff."
– Pauline
Michelle - Level 5 Hairdresser*
Level 5 Hairdresser

Redken Certified Colourist
"Always a great experience, love Michelle!! Asked for a slight change in my cut and she nailed it. So happy. Great coffee. Comfee hair washing station. It's just not a haircut n color, it's a full pampering experience which I always look forward to!"
– Joanne
O - Level 5 Hairdresser
"Always a great personal, relaxing experience. It's nice to come in and feel so comfortable with all the staff. O is amazing at providing me honest feedback during every consultation and lends her expertise in making sure I leave completely satisfied!"
– Allison
Sam - Level 5 Hairdresser*
Level 5 Hairdresser

Redken Certified Colourist

Scruples Colour Educator
"As always, Sam C. is amazing and my hair looks FABULOUS! She never disappoints. Cut or colour, it is worth every penny. The reception staff are always friendly as well, making everyone feel welcome. I highly recommend Michauds and Sam to everyone!"
– Jennifer
Peggy - Level 3 Hairdresser
"Always friendly professional staff. Helpful in all ways. Inviting reception area. Exceptionally clean working areas. I like the product area also, looks fresh and maintained at all times. I'm lucky that I have Peggy as I have fine hair and she does a wonderful job cutting and colouring my hair."
– Sharron
Kat - Level 2 Stylist
"Excellent service from reception through to stylist and cashier. I went in for a complete style change and I was thrilled with the results. . I would recommend the salon and my stylist wholeheartedly."
– Dana
Troy - Owner Barber
"My hairdresser Troy is great. All the staff are very friendly and helpful. I have been going to Michaud's for many years. I always good great treatment when I am having my hair done, pedicure, waxing or a facial. I wouldn't go to any other Salon Spa & Wellness Centre."
– Twila
Clara - Level 2 Stylist
"I have been going to Michaud's salon for years and have never had a bad experience. Staff are friendly and professional. I would definitely recommend Michaud's to anyone looking for an excellent salon and spa."
– Lindsay
Shauna - Level 5 Hairdresser
"I always love seeing Shauna and my hair turns out great every time!"
– Erin
Stevie - Level 4 Hairdresser
"We love Stevie! She gave my daughter the most beautiful color and cut she has ever had at any salon, then she did my Covid hair yesterday and I love how she blended my previous color with new natural hair, not an easy task but I love the results. Thank you Stevie!!"
– Leanne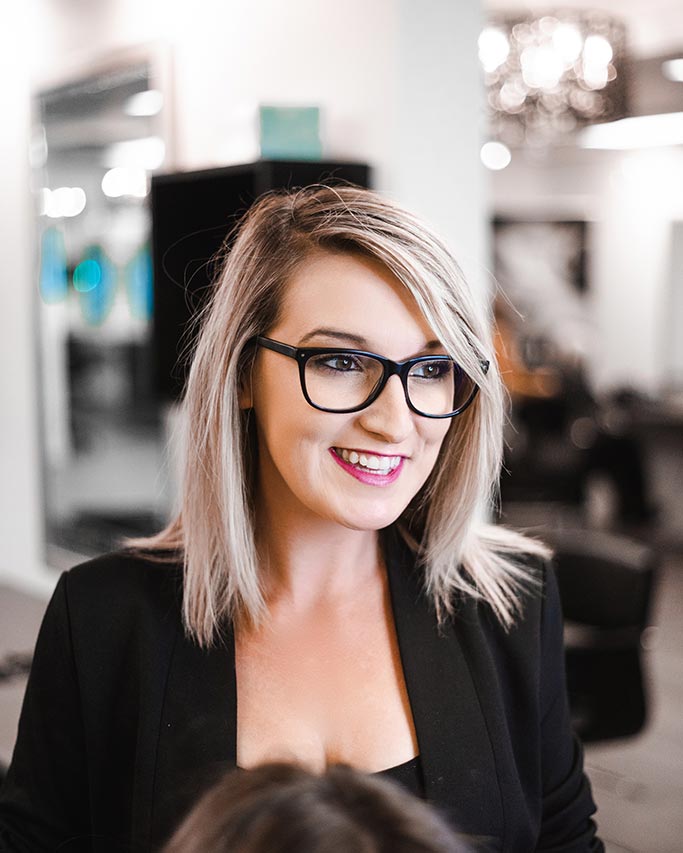 Kayla - Level 4 Hairdresser
"A couple of weeks ago I had my hair done by Kayla & I don't know if I will ever go to anyone else ever again! I did not have much of an idea what I wanted done but knew I wanted a change, Kayla helped me to achieve the perfect Ashy blonde that I have wanted for years! 3 weeks out and it still looks just as amazing as the day I left due to Kayla's recommendations of products. Thanks Kayla & Ill be back in the fall."
– Anonymous
Esthetician & Makeup Artists
Nicole - Esthetician & Makeup
"Nicole was very professional and I will now make this part of my routine. A great experience. Thanks Again!"
– Brad
Nilka - Esthetician
"I just experienced the best facial I have ever had. Nilka provided my service, she is absolutely wonderful!"
– Kelly
Amber - Esthetician
"It was my daughters first time having a spa treatment, and Amber was so wonderful, gave her lots of information and made her feel so comfortable. She was thrilled with the experience."
– Avery
Bre - Esthetician
"This place is a gem!! I happen to be in the area and walked in not expecting they would have time to get me in for a cut. By chance I was lucky enough to get Amanda who made me feel right at home. The service was fantastic and I love my cut!! They also have a spa in the same building so decided to get a pedicure. A young lady named Bre was fantastic. She took her time and was a delight. I would say that was the best service I have ever received at a spa. All the girls at the from desk were super sweet and efficient. I will definitely be making a trip back even though I live in Vancouver."
– DJ D
Ryley - Makeup Artist*
Level 5 Hairdresser

Makeup Artist

Hair Extensions
"Had a wonderful first time experience with Michaud's. Ryley listened to what I wanted, was very friendly and cheerful, and gave me a great cut. Will be back in six weeks (or sooner to have my bangs trimmed – nice perk)."
– Marilyn
Caitlin - Makeup Artist*
Level 5 Hairdresser

Makeup Artist
"When you walk through the door at Michauds, you'll enter a place that's just for you. The friendly staff ensure you are well taken care of, relaxed and happy with the service (s) you've recieved."
– Colleen
Monday 9am to 5pm
Tuesday 8am to 9:30pm
Wednesday 8am to 9:30pm
Thursday 8am to 9:30pm
Friday 8am to 9:30pm
Saturday 8am to 5pm
Sunday closed